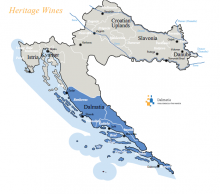 For over two and a half thousand years, wine has been produced on Hvar island, where the world's oldest continuously cultivated vineyard at Stari Grad Plain, a UNESCO-protected World Heritage Site, is located. Other parts of Dalmatia such as the island of Vis and the Pelješac Penninsula have also been making wines for centuries.
Numerous native varieties are almost an exclusive source of wine here. One variety that is native to this region, Crljenak, made its way across the Atlantic Ocean to America, where it is now known as Zinfandel. However, the variety that personifies Dalmatia is the profound and powerful Plavac Mali from the sun-drenched slopes of
Dalmatia's beautiful, sun-drenched coast.
Plavac Mali is used to craft some of the finest Croatian red wines, especially when it comes from the barren, steep southern slopes of Southern and Central Dalmatia facing the sea, from positions such as Dingac, Ivan Dolac or
Postup. These locales are the home of the most famous and priciest labels, wines that are often powerful, alcoholic, full-bodied and opulent. Further inland, Plavac is used to make fruitier, lighter, juicier, everyday wines to be enjoyed with a variety of cuisines.
Babić is the little giant of Primošten. This is a red variety that, despite its modest presence, has a proven global potential. Every international expert that has tried it, such as Anthony Rose or Oz Clarck, has given it great reviews. The latest in a string of reviewers was Sarah Kemp from Decanter who said that Babić was her favorite Croatian
wine. Like Plavac Mali, it is of highest quality when grown in extreme conditions, on steep, sunny slopes. However, unlike Plavac, it is excellent at preserving acidity.
Tribidrag (aka Zinfandel, Crljenak, Primitivo) was nearly extinct in Croatia when UC Davis Professor Carole Meredith and her Croatian colleagues found it in a vineyard near Split while researching the origins of Zinfandel. From the mere nine vines that were found in 2002, thanks to the project to revitalize this variety, there are now over 350,000 vines, and their numbers seem to grow exponentially. Dalmatia has embraced its long lost child.
Pošip is the Croatian counterpart of the famous Viognier. It is full bodied and robust, with a touch of the Mediterranean, yet at the same time it is seductively fruity and fragrant. Pošip comes in two styles. It can be a young, refreshing wine that pairs herbal with lively fruit notes or it can be a rich, mature wine that has aged on yeasts and could mature in a bottle for years. This is the most popular white variety in Dalmatia
Other varieties from Dalmatia:
Whites: Grk, Debit, Vugava, Kujunduša, Maraština, Malvasija Dubrovacka, Prc, Bogdanuša, Gegić
Reds: Plavina, Lasina, Drnekuša, Dobricić, Trnjak