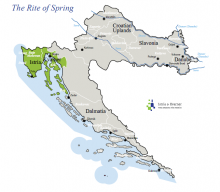 Istria and Kvarner are a unique region. This is where the Mediterranean heat meets the cold coming from the Alps, thus making the climate cooler than Dalmatia. White, rocky landscapes, so typical of Dalmatia, make way for the specific red soil, rich in iron oxides, and the verdant beauty of continental Istria and Kvarner. Three varieties have adapted specifically to this mild coastal climate: Malvazija Istarska and Žlahtina of the white varieties and Teran of the red variety. These have been the foundation of the wine culture in this region for centuries, and in the past couple of decades, they have been joined by Merlot.
Malvasia is a bright, fragrant, spring-like white wine from the cooler air of mystical, green Istria.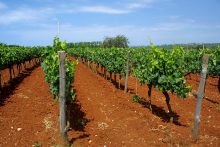 At the moment, this is Croatia's most successful variety. It is one of the few varieties of dry white wine that has the potential to age for more than a decade and keep its great form, especially when it comes from top wineries. Malvasia comes in two styles. It can be fresh, which is instantly recognizable by its IQ label, a certificate of high quality. This wine is intended for consumption within 3 years from the harvest. It is characterized by an abundance of fruity aromas, the most common being peach, citrus or banana, and a full, strong taste of mineral, with a
refreshing, mildly bitter aftertaste. Malvasia is also capable of aging in a variety of wooden barrels. These can be made of either oak or acacia, and, depending on the wine maker, different in size. Depending on the winemaking process and aging, it is ready for sale no sooner than two years from the harvest and can maintain high levels of quality for as much as ten years.
The Rite of Spring
Žlahtina is a delicate wine with gentle, seductive aromas. It is unpretentious, light bodied and vibrant, making it ideal as an aperitif or with fish entrees such as carpaccio. Its name is derived from an old slavic word žlahtno, meaning noble. It is one of the oldest native varieties, and the wines crafted from it were often enjoyed by Croatian nobility. It is primarily found on the island of Krk.
Teran is Istria's native variety. In the past two decades, it was under threat of being pushed out by red Bordeaux
varieties that spread across Istria's vineyards, but today it is making a comeback. Teran is highly regarded for
its naturally high levels of acidity, its exceptionally dark color that in a young wine can border on purple, and its specific flavor with hints of bright red fruit and pepper. Of all Croatian varieties, this one has the greatest
potential for aging over years, and specimens from select harvests can last for decades.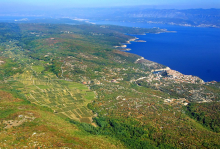 Other varieties from Istria and Kvarner:
Whites: Muscat, Chardonnay
Reds: Sansigot, Merlot, Cabernet Franc, Cabernet Sauvignon, Syrah