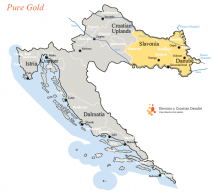 A region characterized by seemingly endless plains covered in golden fields of wheat and the three rivers that enclose it: the Danube, Drava and Sava. A few small hills with vineyards strewn across their slopes rise from plains drenched in sunlight. These vineyards are the home of Croatia's principal variety, Graševina. In the very heart of Slavonia, in a valley surrounded by a low mountain range, lies Kutjevo, the appellation that produces some of the finest Graševina in the world. Meanwhile, on the eastern border of this region, marked by the vast, meandering Danube River, vineyards growing Traminac (Gewurtztraminer), Graševina and numerous red varieties have found their place under the sun.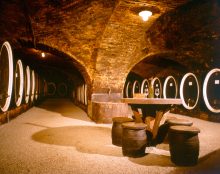 Slavonia is not only the home of fine wines but also of one of the most highly rated species of oak. In neighboring Italy, Slavonian oak is used for the aging of some of their best wines such as Barolo and Barbaresco. The same species of oak is widely used by Croatian winemakers, especially for larger barrels. Warm summers and cold winters, together with deposits of loess permeable to water, always render wines from this part of Croatia rich and mature, with plenty of floral tones in the white wines, and sweet fruity undertones in the reds.
Graševina is the most common variety in Croatia. Its characteristics range from delicate, refreshing wines in West Slavonia to opulent, dry, fresh and mineral wines from Central Slavonia and mature, powerful, full bodied wines that come from the Croatian Danube region. Sweet predicate wines from selected dried berries and ice wines that can age for decades are the jewels of this region. Graševina can be found in other countries under various names, but only in Croatia does it stand for a premium quality wine that is always listed at the very top of a winemaker's portfolio. We like to say that Graševina has found its home in Croatia.
Pure Gold
Frankovka is another variety found in countries that surround the Danube; it is known to a wider audience as Blaufränkisch. In Croatia achieves ideal levels of phenolic ripeness and optimal body thanks to the sunlit vineyards of Slavonia and the Croatian Danube and the rich, permeable soil. Frankovka is a variety characterized by higher
levels of acidity and fruitiness, and this region provides it with the right ratio of maturity and freshness, thus making it one of Croatia's most charming wines.
Traminac is the Croatian counterpart of Gewürtztraminer. In Ilok, the appellation located on the very shores of the Danube, it yields exceptional results. Ilok is located in Croatia's warmest continental region. However, it is hidden from the blistering heat by a mountain range that results in an ideal ratio of sunlight and cool air. This enables it to
preserve its impressive aroma and opulent, long finish.
Other varieties from Slavonia and Croatian Danube:
Whites: Chardonnay, Pinot Blanc, Pinot Gris, Sauvignon Blanc
Reds: Cabernet Sauvignon, Merlot, Cabernet Franc, Zweigelt, Purtugizec (Blauer Portugieser), Pinot Noir, Syrah