The Wine Association in Croatian Chamber of Economy in 2012 adopted a strategy called "Vina Croatia – vina mosaica". The beginning of the strategy implementation was during 2013 with a clear goal, strength and brand awareness as well as the desire for a clear positioning of Croatian wines on the world wine map.
Vina Croatia will stand out from New World wines on heritage, from Old World on simplicity, from other emergent wine sources on accessibility.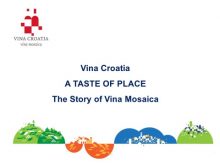 Objective – To put Croatia on the map as a reputable source of distinctive, high quality wines.
Brand Equity
Indigenous flavours, notable origins – wines that taste of place, exemplified now by:
Profound, powerful Plavac Mali from the sun-drenched slopes of Dalmatia's World Heritage coast
Bright, fragrant, Spring-like Malvasia from the cooler air of mystical, green Istria
Rich, textured Grasevina from the rich soil and golden summers of Slavonia and the Croatian Danube
Fresh, lively, hillside wines from the cool climate of the sunlit Croatian Uplands
Brand Character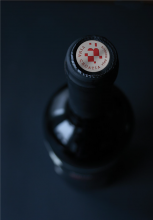 Vina Croatia will embody the country's multi-faceted natural and cultural uniqueness:
Its natural riches and wealth of destinations
Its ancient heritage and future vision
Its multi-cultural origins and originality
With these values, Vina Croatia evokes a new brand of Croatian enterprise, harnessing indigenous strengths within, to compete on the world stage, and heralding a new identity to unify the Croatian mosaic.